From Facebook to Instagram, we all witness many videos in our everyday life. Making videos can be fun and interesting. However, raw videos can be of no use in most cases because most of the time you cannot change the real situation.
Therefore, to make your videos more exciting and creative, a little bit of editing is always needed. How to reverse video in photoshop will take you to the full insight of reversing your video in photoshop. All you need to do is follow the steps and get your work done in a few seconds.
How to Reverse Video in Photoshop Step by Step Guide
These are the basic steps for learning how to reverse video in Photoshop, as well as some additional information. So, without further ado, let's get this started.
Step 1: Import the Video
First, go to "file" then choose "import" and click on "Video Frames to Layers" in order to get the video that you want to reverse.
Details Breakdown to import file: Click Here
Step 2: Convert Videos to Layers
It will lead you to the document where all of your videos are saved on your computer, where you must first select your preferred video before a dialogue box titled "Import Videos to Layers" appears.
Select "From Beginning to End" and press on the "make frame animation" option, then click "OK" and then "Continue." If your video is excessively long, it may take some time to create the layers; otherwise, it will not take long.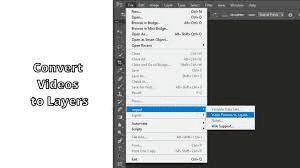 Step 3: Go to Timeline
Now the video will open in layers in front of you, so go to "Windows" and then "Timeline." After that, all of your layers will appear in a timeline frame, allowing you to simply reverse your video.
Step 4: Reverse Frames
In order to reverse your video, you need to go to the drop-down option located at the top right corner of the timeline dialogue box. As soon as you press the drop-down option, you need to go to the "Reverse Frames" option, after this, all your frames will be reversed.
Step 5: Save and Export the Video
All you have to do now is save the file, which you can do by going to "File," selecting "Export," and then clicking "Render Video." After you have picked "Render Video," a dialogue window will appear, asking you to name the file.
Step 6: Name the File
Now, when you name the file, do not delete the whole thing because you need to keep some of the parts. For example, by default, it might show "Untitled-1.mp4" now you can rename it as "reverse.mp4" remember that ".mp4" should be there in the end just like the way it has been given in the beginning. You can also choose a new subfolder name and the place where you want to save your reverse video.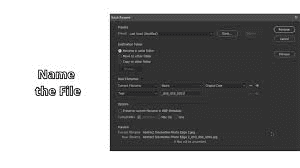 Step 7: Render Your Video
After this, don't change anything else, in the range option, select "All Frames" and in the 3D quality option, select "Interactive" and click on "Render". After this, your video will be rendered and your video will be reversed. You can enjoy it by opening your video now and seeing your reversed video.
Frequently Asked Question
Can You Reverse a Video in Photoshop?
Here is an alternate way to reverse your video in Photoshop. First select 'Actions' from the 'Window' menu inside Photoshop. On the right-hand side, a window will display. To see the drop-down menu, click the top right-hand corner icon inside the Actions box.
Select 'Load Actions' and then the action you want to use will be selected. In the actions panel, the action will now appear. After that, import your video into Photoshop and make the reverse video. Import the video layer with the reverse motion you want to make. Set the timer for 1 second, 2 seconds, or 3 seconds. Choose an action and press "Play". Be careful to check the Frames per second before playing the action, and then select the action with your Frames per second. In less than one minute, you have made your reverse video.
How Can I Reverse a Video for Free?
Your video should be uploaded in our Click the Photo online. Using our simple editing interface, upload your video. Now, when you've uploaded the video, find the 'Reverse' button in the right-hand sidebar and click it to reverse the video. Then download and share your reverse video with others.
Conclusion
If you enjoy making videos, then you should learn how to reverse video in Photoshop, since it not only makes the video more interesting to watch, but it may also appear to be quite creative at times. Every day, we witness thousands of videos, and you must be wondering how he created that incredible video. With just a few clicks, you can perform the same magic with Photoshop. Please contact us if you have any more questions, and if you have loved our blog, please let us know in the comments section.
Read Also: How to Color in Photoshop without Going Over Lines