Introduction
Line Art is a basic standard of drawing an image that is mainly consisted of distinct straight or
curved lines that are placed against a plain background. This is mainly done without any
gradations in the shade or color and which is why it looks like a two-dimensional or three-
dimensional object. Line art is a pretty popular genre of art and in fact, a lot of artists prefer this
type of art in their daily work.
Nowadays, artists can use different software like Adobe Photoshop to do this work because
Photoshop is a versatile and powerful tool that can be used to do creative works. In this article,
we are going to answer the question of how to color line art in Photoshop cs6.
Please do keep in mind that cs6 is an older version of the software and we recommend using the
newer versions. However, there are a lot of computers out there that can't run the latest
version of Photoshop smoothly. Hence, we are going to stick with this version of the product.
How to Color Line Art in Photoshop CS6
Step Number 1: Scan the Inks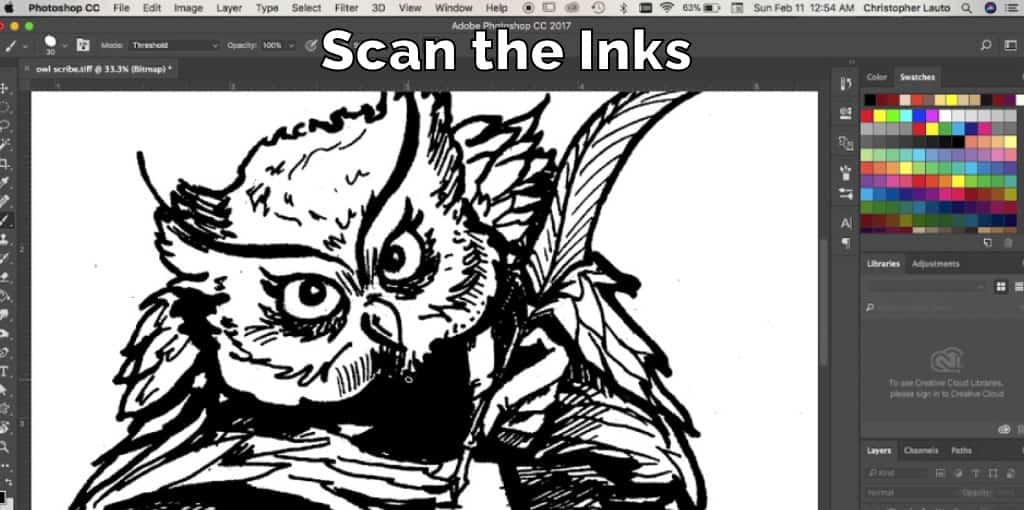 We have to keep in mind that to draw the art first, we are going to need Adobe Illustrator because that is the tool, we need to start our drawing. You can also use any other sketching or art making software that you can use to complete this step. Please do make sure the scan you are doing is in black and white. This will make sure that you get a solid black line and no soft edges in your art. It is an importing step because this will help us isolate the line art onto a layer of its own, which in turn will be easier to finish the line art when it is clean and solid.
Step Number 2: Isolate the Line Art
After we are done with the scanning, we have to open it in Adobe Photoshop. Our target is to separate the inks from the background so that they can be on their own layer for more control. To make it work, we need to first click and select the white background on the back and then delete it.
To do this, we need to place Ctrl + Alt + 2 (For Windows) or Cmd + Option + 2 (For Mac) if you are using Photoshop CS4 and above and Ctrl/Cmd + Alt/Option + ~ if you are using Photoshop CS3 and below. This will make sure that you have placed a selection all around the light-colored areas of the layer which you are working on.
We would recommend using the shortcut keys in Photoshop as this will definitely save a lot of your time in the long run. After you have selected, press Delete so that you can remove the selected white areas and you will have just the line art.
To create a new layer over this, press Shift + Ctrl/Cmd + N and then use Edit > Fill (Shortcut Shift + 5) so that you will fill the entire layer with white color. You will then need to move this layer below the line art layer and lock it. This is because we don't need to do anything else on this layer anymore.
Step Number 3: Cleaning Up Your Inks
You should always have the good practice of erasing as many of your pencil lines as you can
before you start scanning your inks. This will reduce the lot of work that you are going to need in
the long run.
However, you will still see that you have inked on your digital scan. You will need to clean them
in this step. By selecting the layer with inks, you need to use your Eraser Tool (Shortcut E) and
use this tool to get rid of any unwanted marks.
Step Number 4: Coloring your Art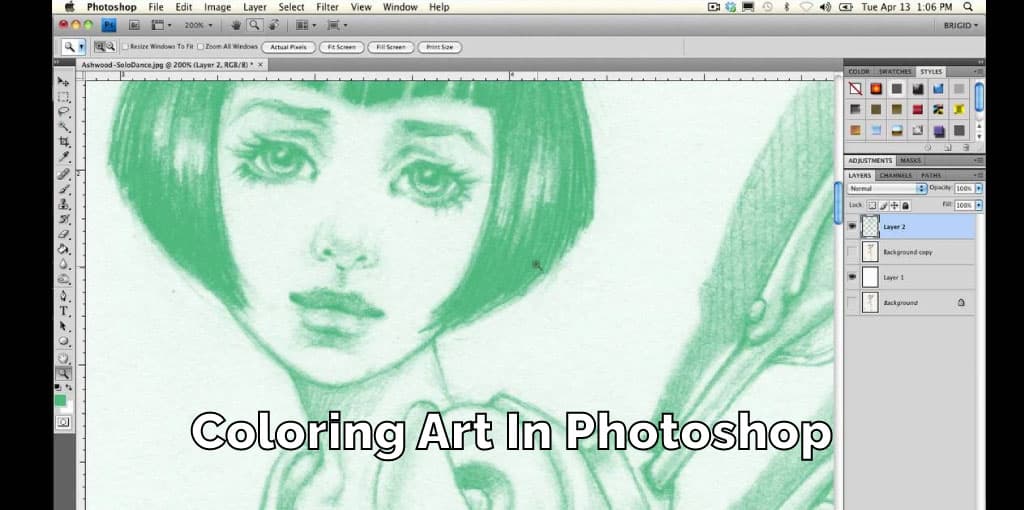 After cleaning your inks, you need to start working on hour flats and after that is finished, we need to lock this layer. This is the time when you start to express your creativity through coloring. After you have locked your layer, click on the Magic Wand Tool (Shortcut W), and then make sure that the Tolerance option has been set to 0, the Anti-alias and Contiguous options have been unchecked (you will be able to find this in the Options bar).
After selecting the Magic Wand Tool, we need to select different colors on the flats layer and start filling the colors on the layer above (Shortcut Shift + F5).
Step Number 5: Rendering and Texturing Your Final Image
Now that you are done with the coloring of the image, you will have to render the image and see what you are trying to get in your final image. After you are satisfied with your render, you then have to work on the textures that will give you the extra edge in your photo and make it pop up.
You will find different Gradient Tool, Magic Wand Tool in your Tools window on the left side of the screen and from there, select the Linear Gradient option and work from there. After you are done with the gradient and put a texture on the image, you will start to see that you have got a unique and distinct style in your image.
Step Number 6: Flattening the Final Image
By this point, you are almost done with the image, and if you are happy with it, you need to wrap it up. If you want to finish it up, first, you need to flatten the image. To do this, you need to Right-click on any layer that you worked on and then choose Flatten Image from the menu that appears. You will also be able to do it by going to the Layer menu and then clicking on the Flatten Image. After that, you need to convert the image that you made from RGB to the CMYK print by going to Image > Mode > CMYK Color.
FAQ
How do I draw a white line in Photoshop?
You can easily draw a white line by clicking on the Line Tool. The Line Tool gives you a two-point line, which you will be able to use to draw lines as vector shapes, paths, or even pixels. If you want to make a non-destructive, scalable line, then you should choose the Shape mode. If you want to work with rasterized content, such as pixel art, then you should choose Pixels more.
How do you make a rainbow line in Photoshop?
To make a rainbow line in Photoshop, you need to first open the Gradients panel from the Color,
Swatches, option menu. Then you need to create your own gradient group by clicking on the
Gradients panel and then clicking on the menu icon. After that, you need to choose New
Gradient Group from the menu. After you have done that, click on the Gradient editor and
choose the "Black, White" gradient and change the color black to the color red. You then need
to keep the location of red to 0% and then add a new color stop, which will be yellow.
Set the location of yellow to 20 %, add the color green again and set its location to 40%. Keep
this up until you have cyan, blue, and magenta with 60 %, 80%, and 100% respectively. After
that, save it as a custom gradient and name it as Rainbow. Thus, you have a gradient with the
rainbow theme which you can use as a line in Photoshop.
How do you change the color of the outline of a text in Photoshop?
Go to your Photoshop software and then type the text that you want to work on. After that, go
to the Layers selection and then right-click the text layer. After that, select the "Blending
Options" and choose the Stroke box. You should then customize the position, blend mode,
opacity, and the color of the outline. When you are done with it, then click OK. Thus, you are
done changing the color of the outline of a text message in Photoshop.
Conclusion
If you followed up till now, then I am sure that you will be able to color line art in Photoshop CS6. If you have any questions regarding this, then please feel free to write your comment in the comments section below.
Also, if you liked our article, then please do take a look at the previous articles where we talked about everything from creativity to photography. We wish you a great day and hope to see you soon.
Read Also: How to Edit Flyaway Hair